Classic MG cars for sale at auction
Product detail
×
Error message
Warning
: Invalid argument supplied for foreach() in
store_ebay_similar_display()
(line
514
of
/home/sotwcom/public_html/sites/all/modules/custom/store_ebay_similar/store_ebay_similar.module
).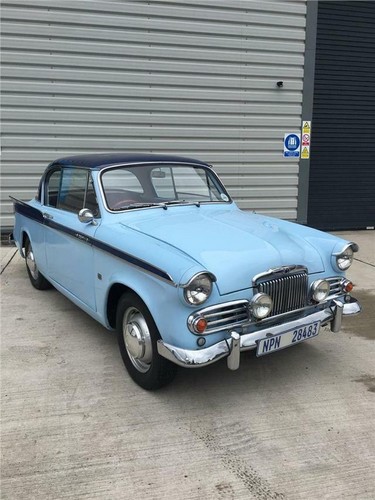 1959 Sunbeam Rapier Series II 1500cc Classic Car
Current price
Buy it now price £0.00
Bids
0, met reserve
Time left
0 days 0 hours
0 mins 0 secs
Seller (score) Feedback %
theleisureshack (3499) 97.9%
Seller location
GBWakefield
Ships to
None
Condition
Used - 3000
Description
Welcome to the leisure shack's ebay shop.
We have a vast array of products for sale from New RIB Boats to Ride-on-Mowers, Rolex Watches to Power Sport Equipment and Classic Cars to Fire Pits.
1959 Sunbeam Rapier Series II 1500cc Classic Car
£6999.00
1959 Sunbeam Rapier Series II 1500cc
This listing is for a 1959 Sunbeam Rapier Series II. This vehicle has lived in the Southern Hemisphere and is in really good condition. Viewing is highly recommended to appreciate the condition of this appreciating vehicle.
Description
Our 1959 Sunbeam Rapier Series II is Blue in colour, is in very clean condition and is a bargain at £6,999. As you will see from the photos the car is a great looking piece of kit. Viewings are available and recommended; you will need to contact us to arrange a viewing and/or collection from our base in Wakefield (WF6 1QT).
This vehicle will be supplied with an HMRC NOVA Certificate and Foreign Registration Document. UK vehicle registration service available upon request. Please call for further details.
Terms and Conditions
All items are described as seen by the seller. If you would like anymore information, photographs, viewing, delivery information then please contact me and I will be happy to help you out.
All of our items can be shipped at the buyers' cost – simply ask me for a quote and I'll let you know ASAP. I can add this cost to the item before you purchase it. We can offer a number of different delivery options through external courier companies so let me know if you need something quickly and I can book it for you.
Goods leave my premises in good working order but without warranty – as stated, I describe items as I see them. If an item is described as brand new / as new condition then it will be. If something is described as 'good condition' then it is my perception of 'good condition' – please contact me to arrange a viewing – I will be more than happy to organise this with you. My opinion may be different from yours.
Please see our feedback history. We pride ourselves on excellent customer service and doing all that we can to remedy any issue with a product. If anything is wrong with your order please let us know. We will do our best to resolve any issue.
Any other questions please don't hesitate to get in touch.
Buyer / Bidder Agrees to these Terms when Buying.
We can provide fast delivery to the UK. Please contact us via eBay Message to arrange.
The safest way for our customers to pay for items is through Bank Transfer. We also offer PayPal, the primary payment option on eBay, cash on collection and card payment - we regret however that all card transactions will be subject to a 2.5% charge.
Goods leave my premises in full working order, and tested but without warranty. Returns will only be accepted within 14 days of the purchase date if found to be damaged.
We are always truthful with our descriptions and if an item is described as brand new then it will be brand new. If an item is described as used then we will be as descriptive as we can be in our appraisal; this of course is our opinion which may differ from yours. Goods leave our premises in full working order, but without warranty. Bidders are welcomed & encouraged to view before bidding. Buyer is responsible for all postage costs. Bidder accepts these conditions. All items have been fully function tested and are in working order. Payment can be made via, Bank Transfer, PayPal, Cash on Collection, Debit Card and Credit Card (we regret that all cards will be subject to a 2.5% charge).
Please be aware that we will try and remedy any discrepancies if you contact us directly on 01924 245 040. Please note our feedback as we will always do our best for customers.
Thank You,
No listed products found.
Newsletter
Join our mailing list to find out about all upcoming sales and latest news about The Leisureshack. You can safely unsubscribe at any time.

| | |
| --- | --- |
| Start price | £0.00 |
| Item has reserve price | false |
| Start time | 2020-03-19T10:16:11.000Z |
| End time | £0.00 |
| Listing type | LeadGeneration |
Product insights for "1959 Sunbeam Rapier Series II 1500cc Classic Car"
How this item and seller is performing
Item popularity - 4291 views, 60 views per day (Extremely popular), 72 days on eBay, 0 bids, 0 sold, 1 available.
Seller quality - feedback score 3499, 97.9 positive feedback (Fair seller - check feedback and volume of sales),
From the same category
Sunbeam Talbot Mk 11a 1954
1965 SINGER VOGUE SERIES III - ALLOY HEAD, LOVELY ...
Sunbeam Talbot Ten 1939
1953 Sunbeam Talbot MK1 Alpine Coupe Roadster - Ab...
Talbot Sunbeam Rally car.
Sunbeam Alpine